Hire a pig roast from the experts
Hog roasting has been a time-honoured tradition for years, but recently it has become even more popular! That's because pig roast hire is a great way to get people together, celebrating or socialising, whether it's for a wedding, birthday, corporate event or any other occasion. Your guests can enjoy a great atmosphere combined with beautiful, tasty food!
You can guarantee that a hog roast will always impress your guests and create an event that they will never forget. You might want an intimate gathering of a few close friends and family or a much bigger get together involving a few hundred people. At Pig Roast Hire we can accommodate your requirements. We can tailor our pig roast hire to the number of people you want to invite along.
So, if you have a special celebration coming up or a mile stone birthday on the horizon, pig roast hire is the perfect catering solution. Visually it looks stunning and is a great talking point for your guests.
When organising an event there is always so much to think about, not least the food and that's where we can help, we can make life so much easier and less stressful. Pig Roast Hire employ a highly experienced catering team who will ensure that everything runs smoothly from our very first conversation with you, planning the catering and deciding on a menu, as well as on the day, providing plenty of delicious food and a first-class service. For our hog roast hire we have the expertise and skills to provide everything required to serve your guests the perfect pig roast.
Pig Roast Hire can carry out the catering at a place of your choice whether that's your home, another venue, or even a pub! We will guarantee that as part of our hog roast hire, all our food is locally sourced and then, when preparing and cooking the food on site for you and your guests, that it is all done to the highest standards while adhering to the strictest food hygiene standards.
While we are based in Hemel Hempstead, we provide hog roast hire primarily in Hertfordshire, Bedfordshire, Buckinghamshire and North London. If you don't live in one of these areas please bear in mind that we are willing to travel further afield for events, if required, in order to cater to your needs.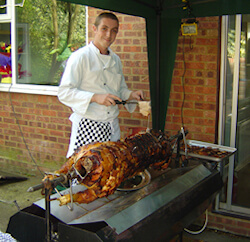 For further details don't hesitate to give us a ring on
01442 842747 or 07778 467695 or you can email us at info@pigroasthire.co.uk or
complete the enquiry form on the website.