Hire a Pig Roast – What to Expect
When you have pig roast hire, you can expect a memorable event for all the right reasons! Throughout the time we have been providing pig roast hire we have acquired the skills and expertise to make your special event a perfect event!
We will visit the venue before the event to assess the best place to put the hog roast. On the day, we will turn up on time and work efficiently and effectively to get everything in place, to your specifications.
We use only the freshest ingredients and locally sourced quality meat that has been carefully selected. So, for your hog roast hire you and your guests will eat succulent, tender meat, tasty salads and vegetables as well as deserts, a cheeseboard and coffee. If you would prefer you could simply opt to have a hog roast with luscious crispy crackling, apple sauce and stuffing, all placed in a soft floured bun. Whatever you choose we will always ensure a generous quantity of food so your guests will not go hungry.
We are happy to accommodate your requirements so if you would prefer to have traditional lamb or chicken, we can cook this. Alternatively, we can do a barbecue. In addition, if you or any of your guests have specific dietary requirements, we can accommodate these.
It's not just about the food though. For your pig roast hire you can also expect a bespoke service that is stress free from start to finish. From planning and organising the catering with you in mind, to cooking, presenting and serving the food you will experience a seamless, smooth running operation.
All our chefs as well as our waiters and waitresses are smartly dressed to suit the occasion and portray a professional image at all times.
After your guests have eaten to satisfaction, we will discreetly and safely tidy away the buffet area with minimum disruption, leaving everything spotless.
We have everything needed to provide hog roast hire regardless of the weather and can adapt to the location. We are also fully insured with all the relevant documentation needed in order to provide hog roast hire catering services at any venue.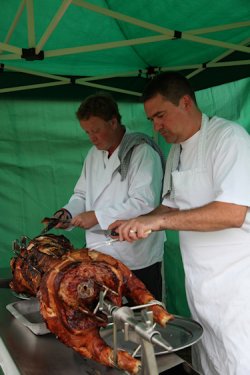 If you would like to find out more or have any questions about pig roast hire, please contact us on
01442 842747 or 07778 467695
or you can email us info@pigroasthire.co.uk