Exciting Hog Roast Hire
We offer you not just a service but an Hog Roast experience!
At Pig Roast Hire we recognise that there are three key ingredients needed for any occasion whether it's an intimate celebration, big wedding reception or corporate event. It should be fun, memorable, and hassle free and hog roast hire can provide all three! That's because with hog roast hire there's a fantastic focal point for you and your guests to talk about while enjoying great tasting food and delicious accompaniments, all organised from start to finish by us, allowing you, as the host, the time to enjoy your day.
Even our British weather will not be able to interfere in bringing you an occasion not to forget as we have the flexibility to adapt to cooking inside or out with pig roast hire.
So, for something a little different have pig roast hire. At Pig Roast Hire, we combine a winning formular of energy and passion for what we do, with beautiful looking and tasting food. It's guaranteed that your guests will be talking about the pig roast hire before they have even tasted the delicious meat. The fantastic smell on its own, is enough to get the taste buds going!
There's a skill to cooking meat on a spit and our chefs have gained years of experience in pig roast hire and so know exactly how to achieve succulent, juicy meat with crispy crackling. It's all about the rotation of the skewer as the meat cooks, allowing the juices to immerse the meat as it turns, patiently cooking it for a number of hours. At Pig Roast Hire we have the time and expertise to do it properly.
Hog roast hire is also a cost-effective way of feeding your guests, whether it's for a wedding, corporate event, school function or other special occasion such as a birthday party. Spending less on the catering could afford you the opportunity to have other items for your function that you may have otherwise had to do without.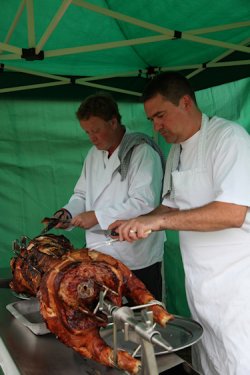 If you would like to find out more or have any questions about pig roast hire, please contact us on
01442 842747 or 07778 467695
or you can email us info@pigroasthire.co.uk